You always knew what to expect of Frank Tanana.
On the field, you got a blazing fastball with lots of strikeouts and a sterling ERA.
On your baseball cards, you got a lanky left-hander with long, straight blondish hair that sort of tumbled out of the back of his California Angels cap like corn silk.
Find Frank Tanana cards on eBay (affiliate link)
It was all classic 70s stuff.
Heck, even when Tanana hurt his arm in 1977, and again in 1979, you still knew what you'd get — fewer strikeouts, but a larger pitch repertoire and a wily veteran who could still win you a bunch of games.
And still that surfer-boy look on his baseball cards.
Later in his career, as an old man of the game with the Detroit Tigers, Tanana would eventually trim those locks, sporting a crew cut that would have fit in any Sunday school or boardroom.
But before that, we still got the same old Frank on our cardboard.
He was there on his last Topps card for the Angels in 1981.
And he was there on his first (and only) "normal" Topps cards for the Red Sox after the Angels traded him to Boston in January 1981 for (in part) Fred Lynn.
Those would have been Tanana's 1981 Topps Traded and 1982 Topps cards.
Now, there was something a bit different on Tanana's 1981 and 1982 Fleer and Donruss cards — a mustache. And the hint of something more on that 1981 Donruss issue … what was it?
Well, look no further than the 1981 Topps Coca-Cola Red Sox set, issued during the summer and featuring Tanana with his new team, and with his new style to find the answer.
Gone was the straight, straw-colored hair and the California vibes, replaced by thick curly reddish brown hair bushing out in all directions from under Tanana's cap, with a 'stache to match.
He'd gone full-on Fozzie Bear.
Or, maybe more on-the-nose, he'd gone full-on Mr. Johnson: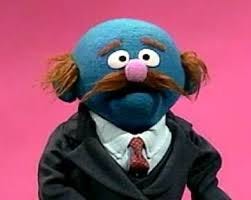 Either way, it was a card worthy of a trip to Sesame Street, and you gotta wonder how that look didn't coax Grover to a few Sawx games to serve up bowls of fly-laden soup.
P.S. —
To be fair, Topps was able to capture the "Mr. Johnson" version of Tanana in its 1980 set, when he was still with the Angels.
And, since that Coke card is airbrushed, you gotta figure there is a haloed "A" hiding underneath.
Still, that Coca-Cola Red Sox card blew up the whole tableau larger than life, and that's gotta count for something.