The 1990 Donruss Ken Griffey, Jr., baseball card is far from a hobby classic, though its image has become sort of famous — or infamous — over the years since its release.
Here, take a look …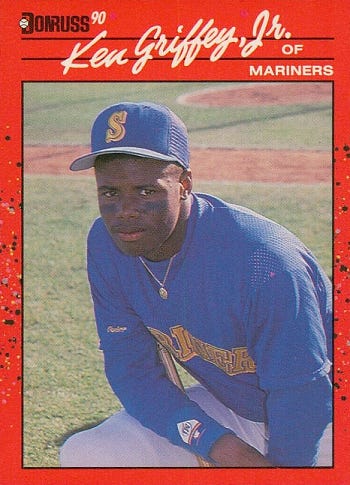 Check prices on eBay (affiliate link)
Check prices on Amazon (affiliate link)
Chances are, you've seen this card on myriad occasions and down a multitude of avenues — on the cover of Sports Collectors Digest when they were previewing the new 1990 cards … inside of SCD and other hobby rags when dealers offered 1990 Donruss cards for sale … in dealer cases at shows and shops … on your school playground or company breakroom while you and fellow collectors traded your wares.
And, certainly today, the image of that 1990 Donruss Griffey is just a mouse click away at all times and shows up online wherever (un)fine junk wax may be hiding.
Makes sense that this Junior would be all over the place, too, seeing as how it's a second-year card of a guy who was supposed to be the next Willmickie Joe "Babe" DiMaysioman.
This hype coming, of course on the backs of his baseball pedigree AND his baseball card, which showed the numbers that landed him in third place in the 1989 American League Rookie of the Year balloting: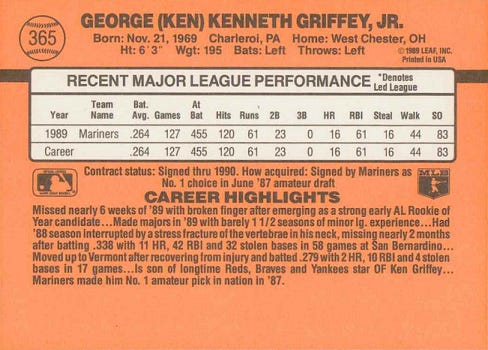 Check prices on eBay (affiliate link)
Check prices on Amazon (affiliate link)
Of course, what sets Griffey apart from all the other can't-miss prospects of his era, all these years later, is that he didn't miss. Indeed, he came about as close to living up to the lofty expectations heaped upon him as any human baseball player could.
That 1990 Donruss card of his?
Well … it's pretty much what we thought it was when it first slid out of our wax packs all those years ago — a bloody mess.
Even young Junior seemed to have felt the weight of the gaudy design and avalanche of cards into which he was being poured. While the overwhelming lingering perception of young Griffey from those days is one of a smiling, carefree, baseball god overjoyed to have been released from Mt. Olympus to loose his lightning on the green diamonds of mere mortals, Ken Jr. doesn't look any too happy to be part of this particular work of art.
Does he know how bad the set will be?
Can he feel the Red Death in his future, both in the form of this card and of his sour-milk return home to Cincinnati ten years down the line?
Or does he just have a stomach ache, or maybe he just caught wind of someone calling him the next Juan Beniquez.
Whatever the case, few player expressions have ever captured the spirit of a card's design like Junior's confused, disappointed, crouched-down, belly-cramp visage does here.
As always, dude nailed it.