(Check out our other player card posts here.)
Mike Boddicker is the type of guy who will sneak up on you.
First, he'll unleash that slushy fosh pitch of his. You'll think it's a fastball or at least a splitter, but then it just kind of moseys up to the plate while you swing away.
Then, maybe he'll turn to the slurve or some other off-speed offering. You know it's coming, but you still swing like it's a heater.
Problem is, Mike Boddicker doesn't have a heater. And so, you look foolish again.
Just ask the late Tony Phillips (in a 1988 New York Times piece):
I find myself sometimes actually jumping at his pitches, being overanxious because he doesn't throw very fast, and I wind up popping the ball up.'
All this is right there in the open … everybody knows about it … but you're powerless to resist.
Check prices on eBay (affiliate link)
Check prices on Amazon (affiliate link)
You watch from the dugout or even take your cuts against Mike Boddicker and think he's nothing special. Next thing you know, though, the guy is named the 1983 American League Championship Series MVP — as a rookie — after pitching a shutout in Game 2 to help the Baltimore Orioles even their series against the Chicago White Sox.
Without Boddicker, maybe the O's don't win the World Series against the Philadelphia Phillies later in October.
Sneaky good.
But even after that performance, you probably don't expect Boddicker to be an All-Star in 1984, but he shows you up again. It's not often you go 20-11 with a 2.79 ERA without grabbing an All-Star nod, after all.
Of course, all those Orioles pitchers from the 1970s and 1980s can really work magic with the horsehide. In any given season, any of Jim Palmer, Mike Flanagan, Storm Davis, Scott McGregor, or Dennis Martinez might make a run at the Cy Young award.
Mike Boddicker is just another in a long line of "system" arms who put up good numbers because they are surrounded by a good team. Right?
So you don't expect much when Boddicker moves on to the Boston Red Sox … and then the Kansas City Royals … and, finally, the Milwaukee Brewers.
And he doesn't tear up the world, but he does go 17-8 for the Sox in 1990 and finishes his 14-year career with a record of 134-116 and a 3.80 ERA in 1993.
Boddicker rides off into the sunset, and you mostly forget about him.
But you have a problem, and you may not even realize it.
See, Mike Boddicker is not just stealthy on the mound … he's been lurking there in your baseball card collection for nearly 25 years now.
And he's watching you.
Always has been, really.
Check prices on eBay (affiliate link)
Check prices on Amazon (affiliate link)
Boddicker was first drafted in the 8th round in 1975 by the Montreal Expos, but he enrolled at the University of Iowa instead.
Three years later, Baltimore took him in the 6th round, and Boddicker rocketed through the Orioles' minor league system that summer, finishing 1978 with the Triple-A Rochester Red Wings.
He spent more time at Double-A and Triple-A in 1979, opened 1980 back in Rochester, and made his Major League debut on October 4, 1980.
Along the way, Boddicker picked up his first baseball card, in the 1980 TCMA Red Wings issue (first image above).
Boddicker was sent back to Rochester in 1981, and it's there that his wariness seemed to bloom. When the 1981 TCMA Red Wings set came out, Mike was there again, but this time his smile was replaced by a watchful, suspicious gaze:
Check prices on eBay (affiliate link)
Check prices on Amazon (affiliate link)
He knew other pitchers were getting the attention he craved and deserved.
He knew there were whispers about his long-term viability. Could "junk" really sustain a Big League career?
And, it seems, he knew that you were looking past his cardboard to that of teammate Cal Ripken, Jr, and maybe to Mike Young.
Boddicker was going to watch you, though, and he was going to keep notes.
And later on, after he'd made the Majors and won that ALCS MVP award and a bunch of games, and then sort of settled in as a mid-rotation type of guy … or a top-of-the-rotation guy for a terrible team like the 1987 Orioles …
After you were done being surprised that he could win throwing like he did and had more or less just overlooked him for years …
After he'd moved on but still kept on …
Well, he was still watching, sometimes with a bit of disdain, like on 1990 Fleer:
Check prices on eBay (affiliate link)
Check prices on Amazon (affiliate link)
Sometimes in disguise, like on 1988 Fleer Start Stickers:
Check prices on eBay (affiliate link)
Check prices on Amazon (affiliate link)
Now, most of the time Mike Boddicker seemed like a right friendly guy, judging by the photos on his other baseball cards — all smiles and good hair and sunshine.
But when you took your eyes off him for a minute, that's when he'd laser in on you and latch on to what you were doing, considering what it all meant for him. He still does, waiting in those dark corners of your collection.
And it seems that Boddicker was something of a teacher, a role model if you will. Because, if you thumb through those old 1981 TCMA Rochester Red Wings cards, you just might find Boddicker's old teammate, the late Drungo Hazewood, ready to call BS on your card-viewing habits: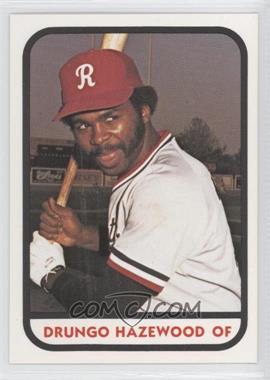 All I'm saying is, be careful out there in the cardboard world.
As far as anyone has been able to ascertain, the vigilance and influence of Mike Boddicker know no bounds.
(Check out our other player card posts here.)