Today, just a short life lesson from Mike Davis and his 1988 Topps Traded card …
See …
Mike Davis spent most of the 1980s as one of the best hitters the Oakland A's had to offer, though often overshadowed by Rickey Henderson, and sometimes by Carney Lansford and Dawyne Murphy.
Still, from 1985 through 1987, Davis reached his peak, combining to hit .274 with 65 home runs and 209 RBI. For his trouble, the A's let Davis walk in free agency in November 1987.
That allowed wunderkind Jose Canseco to slide over to right field and opened up left for, uh, Luis Polonia.
So … Davis for Polonia. Hmmm.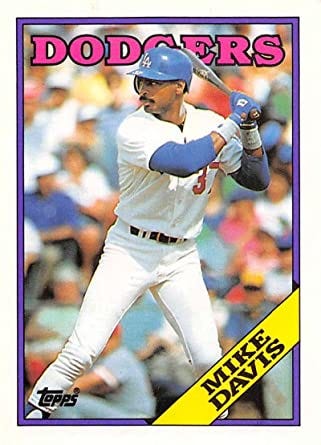 Find 1988 Topps Traded Mike Davis on eBay (affiliate link)
Find 1988 Topps Traded Mike Davis on Amazon (affiliate link)
Well, it worked out OK for Oakland as they rolled through the American League on their way to sweeping to a World Series title.
Except …
They ran into the Los Angeles Dodgers in that Fall Classic, where Kirk Gibson Roy Hobbed them into the dark night of Game 1 and set up an unlikely Dodgers victory in the Series.
Before Gibson could unfurl his heroics, though, the Dodgers had to get someone on base in the bottom of the ninth.
Mike Scioscia popped out to short.
Jeff Hamilton struck out against Dennis Eckersley.
And that brought up Mike Davis.
Yeah, that Mike Davis, who signed with the Dodgers in December 1987 and struggled through most of the 1988 season.
Against Eck, though, Davis drew a walk. Then stole a base. Rattled some cages.
Then … he scored the tying run when Gibson connected, followed by Kirk's winning steps.
As painful as that moment was for A's fans, it must have been even worse for team collectors a month or so later when Topps issued their yearly Traded set, showcasing a waiting Davis in blazing Dodger Blue and White on a sparkling sunny afternoon at Dodger Stadium.
Davis would last only one more season with L.A., then wrap up with a couple minor league campaigns — with the Giants in 1990, and with the Expos in 1991.
But, in the Fall of 1988, he lived well, and thus made his former team pay in the most exquisite fashion imaginable.
Want to see a video version of this article?